Commercial support
Do you have a question about one of our products? Are you about to launch yourself into a large project and would you like to immediately give your client a detailed proposal for home automation, lighting control or access control? Would you like some help or tips on drawing up a quotation or specification description?
Call our customer service +32 3 778 90 80 or our commercial service +32 778 90 20 every working day during office hours.
Need any more reasons to create your free my Niko account? Here's not just 1, but 3.
Our commercial service is readily at your disposal for questions about current promotions and advice.
Our customer services will support you with the installation, programming and configuration of our products by telephone.
Sign up with myNiko and submit your request to be listed as the closest available Niko distributor or accredited Niko installer on our website.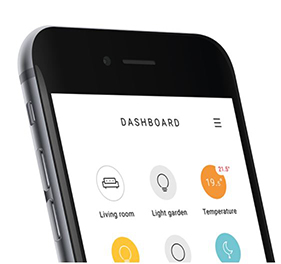 Product in the spotlight
Niko connected switch
Switching lights on and off or dimming them - it's now possible wherever you are. From now on, your garden lighting, sun blinds, roll-down shutters and socket outlets are controlled in an instant. Because with the Niko connected switch app, you've got all your switches in your pocket.